Last Updated on March 31, 2023 by Gagan Dias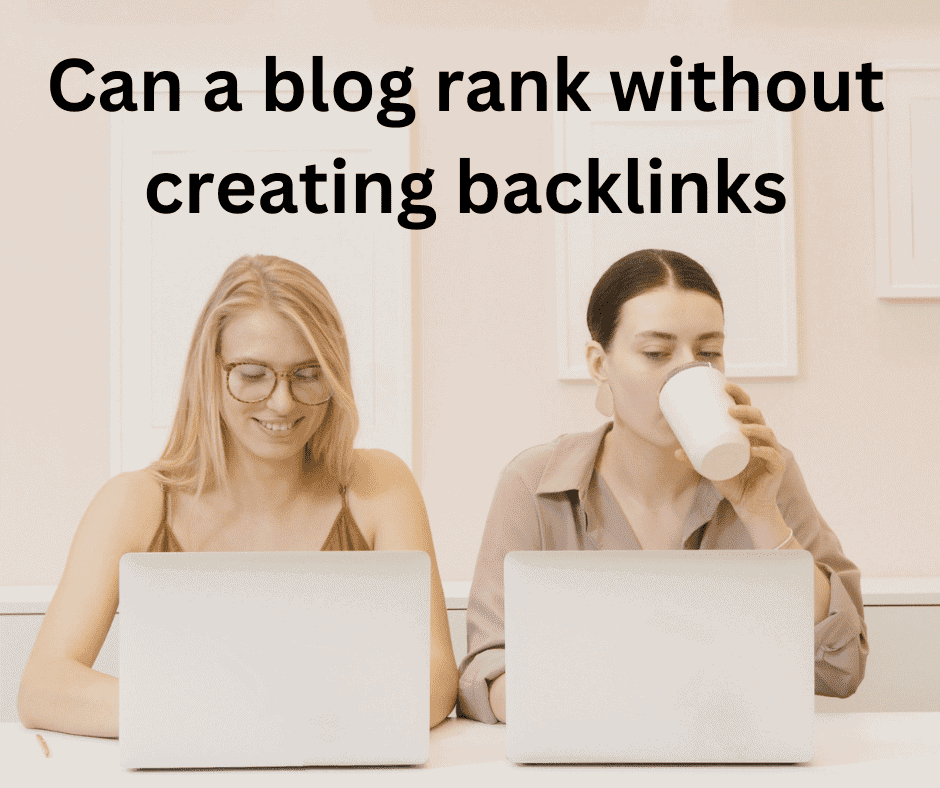 Can a blog rank without creating backlinks
Concentrating on Quality Content and your SEO is far better to be concentrating on your social media, guest posting, and backlinks, especially when starting out with blogging and your website.
Aggressively trying to backlink before you are ready: A backlink, or inbound link, is a link that points to another website.
Backlinks are important for SEO as they can help establish the authority of a website, thus benefiting that website`s search rankings. You can guest post to do this quite nicely, promote your content on other platforms you run, and so forth.
When Developing A Backlink Strategy What Approach Would Be Most Beneficial
I've done backlinks when doing a roundup of other bloggers or if another blogger has a topic similar to mine.
For example, I did a post on saving money on grocery shopping and did a backlink to another blog that did an article on budgeting since it was a related topic. I love doing backlinks and I'm always open to helping others and being helped by others. Bloggers have such a helpful community mindset.
Backlinks are one of the most important factors in ranking in Google. If links to your blog appear on other websites it almost acts like a "vote" for your site it googles your eyes and they will push you up the SERP for your keywords.
Extremely important for long-term success in Google Search.
How to Rank On Google First Page Without Backlinks
Backlink exchanges don't work and are frowned upon by Google when done excessively. You need authentic backlinks from other sites by creating content that others want to share with their audience. There are many great methods for getting follow backlinks but exchanges aren't one of them.
Backlinks are kind of like honorable mentions or personal references. If you have a friend that is starting a blog and you want to send your readers to check out their blog. You would link to it. Or if your reading a blog post and you went further in-depth into a subject. You could send them an email asking for a link to your blog post.
The best way to build backlinks is to write articles that people want to link to. People like linking to things like 'Top 10 ways to clean a red wine stain from clothes'. It solves a problem and people link to it because they want to share the solution with others.
However, if you aggressively establish backlinks before your website has a decent amount of high-quality content, you`re neglecting the importance of content creation and jumping the gun.
Will any website rank if it doesn't have backlinks
I've seen many new bloggers starting out worrying about engagement on social platforms, number of followers, rankings, etc without or with a little amount of content on their sites or blogs.
Good / High-quality content and SEO using something such as Yoast SEO is by far more important to concentrate on especially when setting out.
Having irrelevant links or link stuffing (loading ) can be penalized by domains such as Google and site locked or blacklisted as termed as spamming,
There is external as well as internal linking don't forget ( offsite and onsite SEO)
As above HIGH-QUALITY CONTENT IS KING
A blog should be between 500 words and 3000 words, with your audience/niche in mind, informative and engaging, and with the tone of your brand/style.
DA is a meaningless stat that Moz made up. Google doesn't rank you based on your domain, it ranks you based on your page's authority and Google does not release that information.
Is it possible to rank without backlinks?
Moz and other SEO toolkits released DA and similar metrics as a guess as to what Google is doing but you DO NOT NEED to have a high DA to outrank high DA sites because DA isn't real.
The best thing you can do is focus on creating high-quality content and not worrying about what your DA is.
Related Posts: