Cloudways, a leading managed cloud hosting platform, offers a great opportunity to explore its services through a free trial.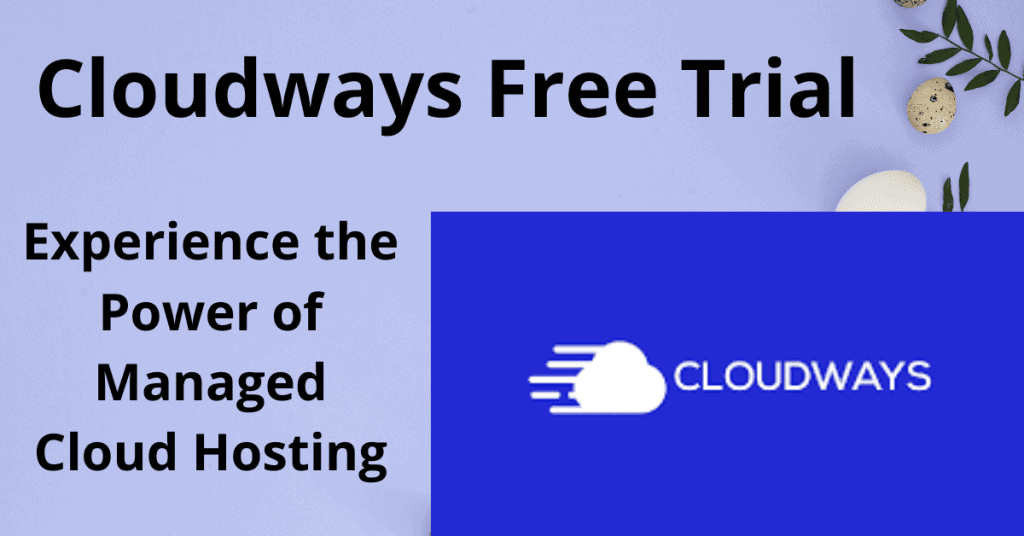 In this article, we'll dive into the world of Cloudways and uncover the benefits of their platform, pricing options, and how you can activate the Cloudways free trial and get the most out of it.
What is Cloudways?
Cloudways is a managed cloud hosting platform that simplifies the complexities of hosting websites and applications in the cloud.
Try Cloudways free trial Now!
It leverages the power of well-known cloud infrastructure providers such as Amazon Web Services (AWS), Google Cloud Platform (GCP), DigitalOcean, Vultr, and Linode to deliver high levels of performance, scalability, and security.
Benefits of Cloudways
Scalability and flexibility
With Cloudways, you can effortlessly scale your resources up or down based on your site's needs.
Whether you're experiencing a burst of traffic or need additional storage, Cloudways lets you seamlessly adapt to changing demands.
Improved performance
By harnessing the power of advanced caching technologies, SSD-based hosting, and content delivery networks (CDNs), Cloudways ensures that your website or application performs optimally, providing a fast and smooth user experience.
Strong security
Cloudways prioritizes the security of your data and applications. With regular security patches, dedicated firewalls, and secure backups, you can have peace of mind knowing your online assets are protected from potential threats.
Management Services
Cloudways takes care of server management tasks including server setup, regular maintenance, and automatic backups.
This allows you to focus on your core business activities without worrying about technical complexities.
Cloudways Pricing
Cloudways offers transparent pricing plans that cater to different business sizes and needs. The platform operates on a pay-as-you-go model, ensuring you only pay for the resources you consume.
Pricing is determined by factors such as cloud provider, server size, and additional features.
Cloudways Free Trial
The Cloudways free trial provides an excellent opportunity to experience the platform's features and capabilities first-hand.
With the free trial, you can explore the Cloudways interface, test its performance and assess its suitability for your specific needs.
How to Activate Cloudways Free Trial
Activating the Cloudways free trial is a simple process. Follow these steps to get started:
Visit the Cloudways website.
Click on the "Free Trial" button.
Provide the necessary information, including your name, email address, and password, in the specified fields.
Choose your preferred cloud infrastructure provider.
Choose the server size and location that aligns with your needs.
Complete the setup process and start exploring the Cloudways platform.
Cloudways Free Trial Features
During the Cloudways free trial, you get access to several outstanding features including:
24/7 support
Cloudways provides round-the-clock support via live chat to assist you with any queries or technical issues you may have during your trial period.
Easy-to-use control panel
Even if you have minimal technical knowledge, the intuitive Cloudways control panel allows you to easily manage your servers, applications, and databases.
One-click app installation
With a large number of applications available, Cloudways simplifies the process of installing WordPress, Magento, Joomla, and many other popular content management systems (CMS).
The stage environment
The staging feature enables you to create a replica of your live website, allowing you to test updates, plugins, and themes without affecting the user experience.
Cloudways Free Trial Limits

While the Cloudways free trial provides a comprehensive overview of the platform, it has some limitations:
Trial Period: Free trial period is limited which usually ranges from 3 to 14 days depending on promotional offers and availability.
Resource Limitations: During the trial, there may be limits on the amount of storage, bandwidth, and other resources you can use.
Try Cloudways free trial Now!
Payment Gateway Integration: As this feature is limited to paid plans only, payment gateways are not available during the free trial.
Why choose Cloudways?
Cloudways stands out in the crowded hosting market due to its unique advantages:
Performance: The platform's optimized infrastructure and advanced caching technologies deliver exceptional website speed and performance.
Scalability: Cloudways allows you to easily scale your resources as your business grows, ensuring that your website can handle increased traffic and requests.
Simplicity: With its user-friendly interface and simplified server management, Cloudways removes the complexities of traditional hosting, making it accessible to users of all technical levels.
Reliability: By partnering with renowned cloud infrastructure providers, Cloudways ensures a robust and reliable hosting environment.
Support: Cloudways offers 24/7 support from a team of experts, ensuring prompt support and solutions for any issues you may face.
conclusion
Cloudways offers a unique managed cloud hosting solution, empowering businesses to easily harness the power of the cloud.
FAQ
Can I extend the Cloudways free trial beyond the initial period?
Unfortunately, the free trial period is limited and cannot be extended. However, you can explore their affordable paid plans to continue using Cloudways after the trial.
Which Cloud Infrastructure Providers does Cloudways support?
Cloudways supports popular cloud infrastructure providers such as AWS, GCP, DigitalOcean, Vultr, and Linode, giving you the flexibility to choose the one that best suits your needs.
Does Cloudways offer a money-back guarantee?
No, Cloudways does not offer a money-back guarantee. However, their transparent pricing model ensures that you only pay for the resources you use.
Can I migrate my existing website to Cloudways during the free trial?
Yes, you can migrate your existing website to Cloudways and experience their hosting environment during the free trial. Their dedicated support team is available to assist you throughout the entire migration process.
What happens to my data after the Cloudways free trial ends?
If you decide not to continue with Cloudways after the free trial, you have the option to retrieve your data and migrate it to another hosting provider.
Through their free trial, you can experience the platform's features and benefits, helping you make an informed decision about whether Cloudways is the right choice for your hosting needs.