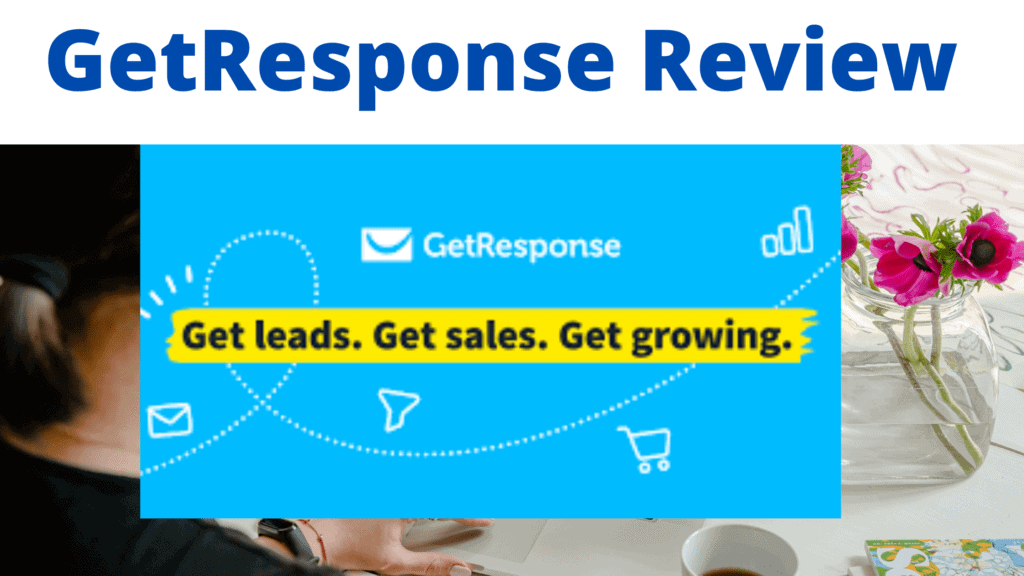 GetResponse Review
Getresponse is a popular email marketing platform that has been around for over a decade now. It was founded in 2001 and from then on, it's been at the forefront of the industry as one of the most sought-after providers.
Not only is Getresponse a comprehensive tool with all the features you'll need to market your business, but the best thing about Getresponse is that it's 100% customizable. Meaning no matter what your business model is, there's a plan for you here.
From the get-go, Getresponse has been a favorite email marketing tool of many businesses, but in this review, we'll take a deep look at the pros and cons of Getresponse to give you a better idea if this is the right tool for your business or not.
We'll also look at some of the Getresponse features, pricing plans, and customer testimonials to give you a better idea of what to expect from this email marketing platform.
With that said, let's take a deep dive into Getresponse's features below.
The first thing you'll notice about Getresponse is it's an incredibly easy-to-use email marketing platform. They have a team of experts on hand 24/7 to help you with your campaigns and even provide quality customer service if needed.
Another great feature that comes with Getresponse is the number of customizability options available. Unlike other email marketing platforms, Getresponse provides a wide variety of features so you can choose the kind of plan that suits your business best.
You're able to choose from different plans such as:
● Starter – Perfect for small businesses and people who are just getting started with email marketing campaigns. This is the cheapest Getresponse plan at $15 per month (billed annually) or $17 per month (billed monthly).
● Professional – This plan is good for mid-size companies that are running basically to complex email marketing campaigns. The price is a little more expensive at $29 per month billed annually or monthly at $31.
● Agency – This one is for large-scale businesses with advanced features and multiple users. Getresponse's Agency plan is $89 per month (billed annually) or $99 per month (billed monthly).
● Success – finally, this one is for those companies who need business-class email marketing tools such as dedicated IP addresses and extra security features. It has all the bells and whistles of the professional plan but with more advanced features.
All Getresponse customers get access to their mobile responsive templates, drag & drop editor, and list management tools for FREE. You can also choose from a range of autoresponders, A/B split testing, and blog content builder tools with built-in blog RSS feeders.
A favorite feature is the automated sales and webinar funnel builder which is perfect for creating sales funnels that ensure more revenue. Getresponse also has a website host, landing pages, lead capture tools, and the ability to add custom code to your own site.
● List management – You can import or export existing subscriber lists into any of Getresponse's plans by using its CSV file converter. You can also invite new subscribers by importing contacts from Gmail or Outlook with the help of Getresponse's marketing automation tool.
● Automation – with Getresponse, you can set up your campaign in 6 minutes. This is thanks to the easy-to-use automation tools that allow you to fully automate all of your email marketing campaigns.
● Marketing calendar – Getresponse includes a built-in marketing calendar with an activity planner which allows you to schedule newsletters, autoresponders, and campaigns in advance. This feature is especially helpful for those who want to stay organized.
● Funnels – The funnel builder tool included with Getresponse is one of the best there is because it gives you the ability to create unlimited sales funnels or webinars with ease. Getresponse also allows you to integrate this tool with your website and other email marketing platforms such as Aweber and Mailchimp.
● Agency capabilities – For large-scale businesses and agencies, Getresponse offers features and tools that allow for more collaboration and productivity across the board. This is thanks to Getresponse's API (application programming interface) which contains built-in functions for managing lists, creating email marketing campaigns, and automating follow-up sequences.
● Automated drip campaign – you can create automated lead nurturing funnels using GetResponse's drip campaign which allows your prospects to get information about your products or services in bite-size chunks over time.
● Templates – Getresponse includes more than 70 email templates that you can use to send newsletters or announcements. The designs are beautifully crafted and highly responsive for your subscriber's viewing pleasure.
● Reports – to keep you on top of things, Getresponse offers in-depth analytics reports to track the performance of your email marketing campaigns. You can get useful insights with the help of various reports including delivery assessments, engagement stats, and custom filters.
● Social media campaign – If you want to promote your content on social media sites, Getresponse integrates with Facebook so that you can post your newsletters in a few clicks right from their platform.
● GetResponse coupon code – Getresponse offers several coupons and deals that you can take advantage of to save money. For instance, you can get two months for free by using coupon code "SUMMERSALE". This will sign you up for Getresponse's Professional plan and give you access to all its features.
● Getresponse reviews – Getresponse reviews love this platform for its high-quality email marketing services and the fact that it is a one-stop shop for all your needs. Customers also praise Getresponse for offering 24/7 support even during holidays.
● Getresponse pros – some of the notable pros that Getresponse customers love include its ability to blend in with almost any website thanks to its Drag & Drop builder, its responsive templates, and its helpful customer service.
● Getresponse cons – the only real con that customers have noted is that you don't get access to advanced automation tools if you choose Getresponse's lower plans such as Professional.
● Getresponse pricing – Getresponse starts at $15 per month for 500 subscribers and goes up to $1,800 for 25,000 subscribers. However, you can save money by choosing Getresponse's yearly plan which costs $149 per month (or $1,980 per year), or its monthly plan of $59 ($584 per year). You may also want to consider Getresponse's new "Startup" plan which is only $12.
You Might Also Enjoy…