Working with Bluehost can be a great experience, but canceling your account may be the right choice if you don't need it anymore or your needs have changed. In this article, we'll show you how to cancel your Bluehost account and also make suggestions about what you can do after you cancel. We'll go over the steps in detail, so keep reading!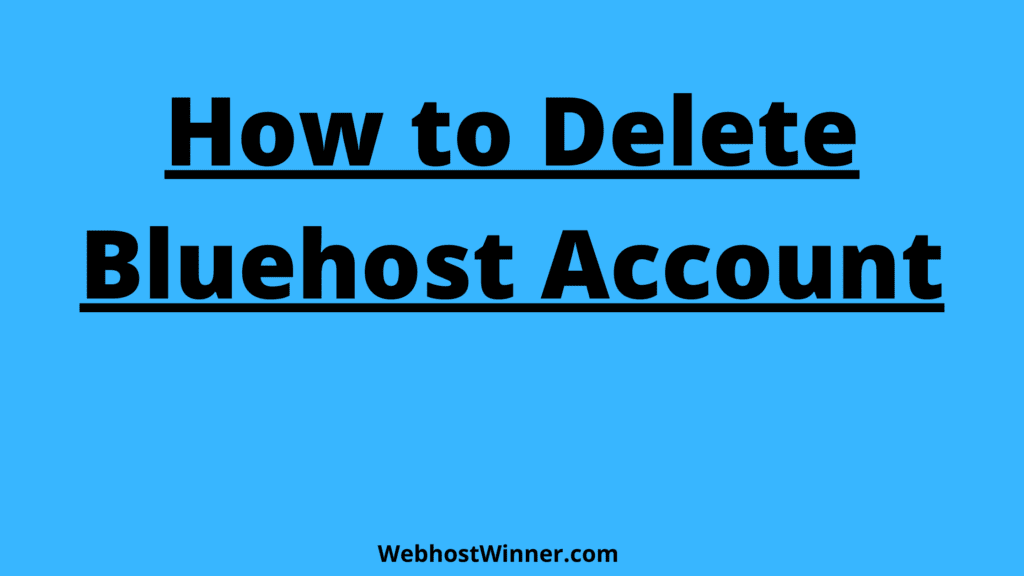 How to Delete Bluehost Account
To begin deleting your account, log in to your Bluehost account. If you do not have an account, you can create one here.
1.Log into your Bluehost account
Once logged in, select My Account from the top menu bar. You will be taken to a page with a number of options.
Advertisement
Select Subscriptions & Billing from that list of options; you will now be directed to a page where all of your current subscriptions are listed select Cancel All Monthly Billing Accounts if it is highlighted in blue; otherwise, select Cancel This Service/Plan from underneath its description. After selecting Cancel This Service/Plan, follow any prompts that appear on-screen until you receive confirmation that your service has been canceled.
If no confirmation appears on-screen, wait five minutes before attempting to cancel again. Wait another five minutes before attempting to cancel again if no confirmation appears after those ten minutes. After receiving confirmation that your service has been canceled, check back within two weeks for another confirmation email confirming your account has been fully deleted.
Advertisement
2. Under Billing Settings click on Cancel Subscription: Delete Bluehost Account
You can cancel your Bluehost account directly from your bill's Cancel Subscription section. You'll receive a confirmation email after you submit a request; your subscription will be canceled as soon as we process it. Please note that it may take several business days before your cancellation goes into effect.
If you need to cancel an additional domain, follow these instructions. Otherwise, we recommend canceling with another form of payment instead (e.g., credit card or PayPal). Click here for more information on how to cancel a domain with us.
Once canceled, your domains and services are automatically canceled within 24 hours. Canceled domains remain in our system for up to 90 days if they have not been renewed during that time period.
This means you won't be able to reactivate them until then. We do not cancel orders outside of billing settings so please do not contact customer support regarding cancellations made outside of billing settings. Cancellation (Delete Bluehost Account) requests made via phone or chat is not guaranteed and must be confirmed by an agent via email within 48 hours.
Cloudways (40% OFF) – Cloudways offers a great hosting service for beginners
DreamHost (67% OFF) – Dreamhost offers the best month-to-month options and pricing plans for hosting
3. Confirm Cancellation
To cancel your Bluehost account, log into your account and click on Subscriptions in your dashboard. From there, click on Cancel Subscription in the right-hand corner of your screen. The next screen will give you a few options for how you want to handle any outstanding charges on your account.
If you see an option that says something like End My Subscription Now or Cancel My Subscription Instantly, pick that one (but double-check first because they aren't always available). Click Continue once you have made your selection, then confirm by checking off a box saying I Understand I Will No Longer Have Access To Any Plan And Services Purchased before clicking Continue again. Once you're done with that, click Cancel My Account.
A final confirmation page will pop up asking if you're sure about canceling your subscription. You can also choose from several different cancellation methods at this point, including paying for any remaining months yourself or having Bluehost cancel it after a certain period of time has passed.
Once everything is confirmed, you'll be taken back to your main Subscriptions page where all mentions of your account should be gone. Congratulations! You've successfully canceled your Bluehost account!
4. Wait for a Confirmation Email
If you signed up for your account over a year ago, chances are you have a paid account. If that's true, then wait for a confirmation email from Bluehost about what your next steps will be. They may give you instructions about how to cancel/ Delete your Bluehost Account and provide free service for another 12 months. But if they don't, then there's no reason why you can't cancel right now.
There will likely be an option in your web hosting control panel. Click on it and you should see a button labeled Cancel My Account. Clicking on that button is all it takes to cancel your Bluehost account. It's as simple as that! You may need to enter some information like your username or password before you can click on Cancel My Account, but after doing so, you should receive a message saying Your subscription has been canceled successfully.
Login to your email inbox, open the confirmation email and click on the link inside it. If you want to delete your bluehost account but you're not sure how don't worry. There is a way that anyone can do it (To Delete Bluehost Account). All you have to do is: Log in to your email inbox, open the confirmation email, and click on the link inside it.
This link will be sent immediately after you sign up for your free trial or when you place an order with bluehost. com. When you click on it, you will be taken to a page where you need to enter your username and password. Then hit the login button and go to the My Account Page where all of your information about hosting plans is located.
Delete Bluehost Account – Now go down until you see the Cancel My Account button at the bottom of the page. Click on it and follow the instructions given by the website in order to cancel your hosting plan. Once you cancel your hosting plan, there will be no charge on your credit card and you won't receive any more bills from them. You may also request the deletion of data within 48 hours after cancellation if needed.
Advertisement
However, some accounts may take a few days to process depending on the server load. Make sure that before deleting any account make sure to download files that are important as they cannot be recovered once canceled or deleted from the server side. That's all! It's very easy!
Best 4 Bluehost alternatives
You Might Also Enjoy…