Last Updated on November 4, 2023 by Gagan Dias
Elementor vs Divi – I personally like the simplicity of Elementor over Divi and I like that it provides sections/blocks as pre-made templates and not only complete website packs.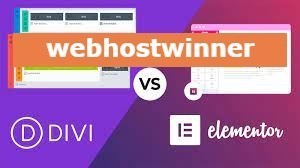 Elementor vs Divi
This is a complete comparison with the Ideas of elemental users. You can check their honest reviews and choose the best website builder. Elementor vs Divi – both have many page-building features.
Now you save up to 50% OFF on Elementor Pro plans: GET OFFER
I did some research on what people thought of the two ( divi came out less positive) checked youtube guides etc and thought as Elementor free was, well, free, I'd start with that. In the meantime, I've bought pro, and love it, and I keep hearing people going to switch from divi to elementor.
Four or five years ago I was looking for a theme to use to create a website for a client. I bought and tried a number of themes but they did not do what I wanted the theme to do. I found Divi and I was very happy with Divi at the time. Two years ago I discovered Elementor page builder by watching Elementor videos on YouTube. I also discovered the Astra theme the exact same way. I have stopped using Divi.
For about two years I used primarily WPBakery Page Builder. Not because it's the best option but simply because I didn't know any better. Whenever I'd start a new project I'd seek out a theme on Themeforest that looked to best suit the needs of that project. Ostensibly that theme would come with WPBakery and I thereby assumed that that was my best option because it was so popular.
The best plugin for designing your blog is Elementor.
I never really even considered any other builders until Visual Composer branched off from WPBakery and made a new version. I even paid for an agency license for a year even though I barely used it at all. It lacked the extensibility that made its predecessor so powerful. The ability to work with add-ons. (That was not money well spent.)I'd heard of Elementor around this time but didn't really even give it a second thought.
It wasn't until Envato Elements came out with a plugin that had a pile of blocks and templates for Elementor that I finally tried it out. After that, there was really no going back. I've made 18 sites with Elementor in the last six months or so.
In that time, I've only made one with WPBakery and that's only because the theme offered some very specific features for that niche and while I could have used Elementor as well, it doesn't play nice with the custom widgets as the shortcodes are all built from within WPBakery elements.
I now use Astra Pro as a base theme and Elementor Pro for pretty much all of my projects. I really dislike having to go work on older sites I've built because they lack the functionality I've come to appreciate with Elementor. (Chief among which is copied and paste. Like really, WPBakery, why isn't this possible)I no longer need a specific theme to get the functionality I need for each project. I'm able to simply sit and create.
I used to use Divi but it got slower and slower and would crash on me when editing complex pages. Also, I had clients who used it to style blog posts, and then when they wanted to use another theme there were a gazillion pages full of redundant Divi code to clean up. Elementor vs Divi: Divi was good in its day, but Elementor is just easier to work with now.
Avada vs Elementor vs Divi
When I started out in web design almost 3 years ago, I was a member of a web design group on FB and everyone strongly recommended Elementor.
I used it on a couple of sites and fell in love. Since then, I've worked on client sites running all kinds of other page builders (WPBakery, Divi, Avada, etc.), and every time I use another page builder I always encounter some kind of issue that requires manual coding or other roundabout work that I wouldn't need with Elementor.
I'm a new ED of a small nonprofit and I inherited the responsibility of maintaining the website. I had NO prior knowledge; I didn't even know what a plugin is. The board member who designed the website used a complex theme and all code and was no longer available to help. Even professionals scratched their heads in bemused confusion. Ummm, I was lost.
An employee messed up our website and then I really had to learn. A kind soul spoke the word, "Elementor" in my ear about a month ago. I'm starting to get the hang of it and my site is starting to take shape.
I know I've got a LONG way to go, but without that one word, I was SO LOST and didn't know where to begin. I'm grateful. I HAD to figure something out; I cannot afford to hire it out and don't want something I cannot maintain anyway.
Elementor vs Divi woocommerce
I tried using Divi on a site that already had it. It was very limiting. Used WP Bakery on a few sites but Elementor allows me so much more flexibility and creativity. In addition, most of my clients are small to medium-sized businesses one of the things we market is making websites so they can make small changes to themselves which makes them feel more in control and Elementor is the best for that.
Elementor vs Divi reddit
I was tired of paying 20 to 39 dollars every time for a nice theme (Envato, Colorlib, etc) so 3 months ago I start searching for new tools for my WordPress sites and I found Elementor (bought Pro a few days later after this discovery) and… I fell in love with great software. I never heard of such a thing as Divi
It was the first one I tried and I liked it. Looking at others, it seems they can cause problems if you deactivate them, whereas Elementor if deactivated or removed, leaves all your content intact just with no CSS styling. That, to me, is enough of a reason to stick with it. It suggests a thorough UX-driven approach to the whole project.
Elementor vs Divi speed
I've used Divi and really hated it. Love Elementor. I asked the question about VC and got lots of negative visceral responses.
Mobile & tablet responsiveness was THE reason I made the switch. They took so freaking long. Less shortcode and cleaner code were also important. And Divi's focus and design style (UI, UX) were a big one too. Elementor vs Divi, For example, their blog, plugin features, and premade templates lacked in my eyes function and design hierarchy.
For me personally, they focused too much on visuals and not function. And I use a page builder for function first then visuals (plus the visuals are something I do). For example, you had a feature that was only available in their news/blog theme and not in the main plugin, a choice I really don't get.
You Might Also Enjoy…