Last Updated on March 31, 2023 by Gagan Dias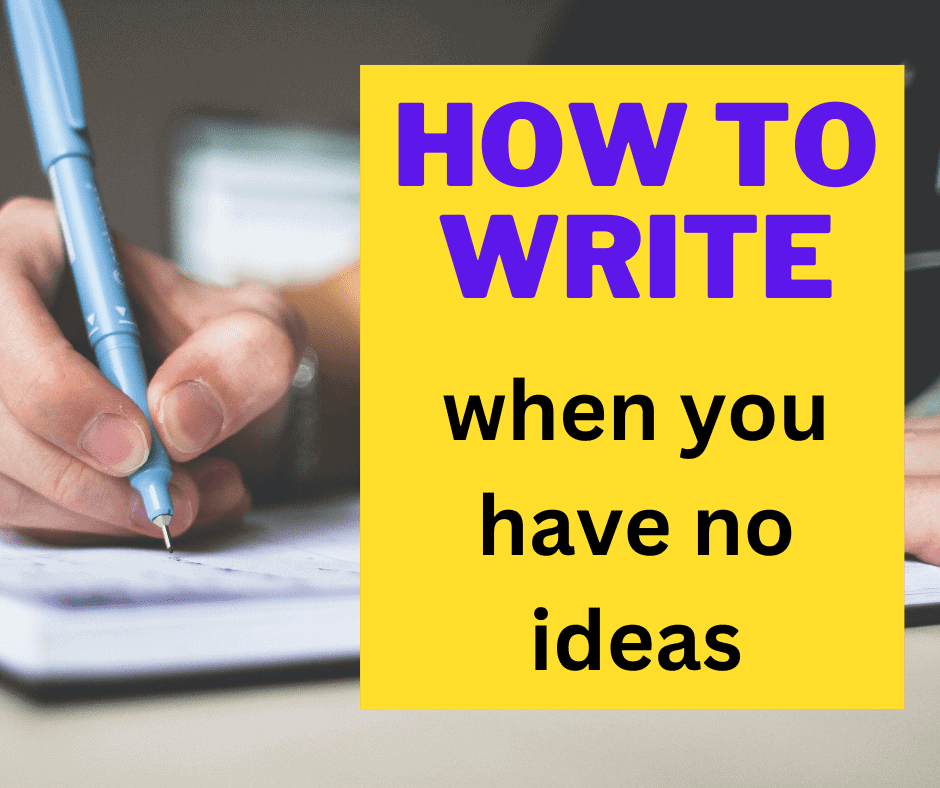 How to write when you have no ideas
Someone once asked me, "What can I do to make sure I never stay stuck for a long time, not knowing what next to write about?"
At the beginning stage of my writing journey, I had this question in my heart most of the time because I discovered that I wasn't always inspired to write like I thought I would and I had moments when writing was a hard nut to crack even when I had the will.
More reason, it always beat my imagination every time I opened social media and saw creatives like me churning content every single day. Like, how are they doing it? Is it that they never lack the inspiration to come up with ideas or what? Is it that they are always in the mood to write? Naah.
I realized that all writers and creatives have such moments when inspiration doesn't come, but rather than waiting for inspiration to come, they go out there to find one and get the ideas to write. That was the missing link. I was clueless about what to do to get the ideas to write when the inspiration wasn't there and how to find these ideas.
But as the saying goes, "When there is a will, there is a way." There is always a way out of these things. You don't have to keep waiting for inspiration to hit you before you write. If you do, then like 'Don Poynter', you are a waiter, not a writer.
To thrive in the writing field, you need more than inspiration, you need methods to come up with ideas to write anytime, anywhere, and any day.
The question again, is, 'What can you do to make sure you never stay stuck for a long time, not knowing what next to write about?" This is where knowing how to get an unending stream of ideas comes calling.
I have been into writing long enough to know what to do in moments when I don't have ideas to write but I have to write.
These are the things I do to get an unending stream of ideas to write;
1) Keep your reader in mind
I always keep my reader in mind whenever I want to write. To keep your reader in mind the same way I do, think about what a typical reader of your genre would love to read about. Asking yourself questions like these will help you;
– What kind of content will my readers love to read?
– What kind of content will interest them?
– What challenges and pain points do they have?
– What problem do they need a solution to?
– What questions are they asking?
– Where do they go to read content and what kind of content do they read the most?
Your answers to any of these questions will give you tons of ideas to write about. As a creative, you must know that your content doesn't revolve around you but around your readers, so you need to produce more of what they like.
When you start with your readers in mind each time you write, it not only helps you to get an unending stream of ideas to write but to produce content that is interesting and useful to your audience.
You can never run short of ideas when you know your readers and you always keep them in mind.
2) Ask your readers
Asking your readers will also do the trick of getting your head flowing with ideas. Regularly, ask your readers the kind of content they love to read. Their answers will provide you with a stream of ideas you can write about.
You can ask your readers direct questions or create a poll on your social media or Facebook group to know the kind of content they want you to write about. Then, use their feedback to generate ideas for your writing.
3) Consume a variety of content
It is what you feed your mind, that you produce. To produce ideas constantly, you have to provide your mind with things that will give you ideas. Learn to consume a variety of content ranging from blog posts, social media content, emails, books, magazines, movies, etc.
When you consume content regularly, your mind and brain become active to easily release ideas. You don't have to rack your brain too much thinking of what to write because you can easily produce ideas based on the things you've been consuming.
Also, a line/sentence from a book or blog post you are reading can be a starting point or inspiration for your next writing.
4) Use idea generators
Idea-generating sites like quora, answer the public, ubersuggest, and story starters have been of immense help to me.
On days when I struggle to write, I type in a keyword on any of these sites and it releases ideas/content that helps me to write. Or I go to quora and read great content where I get a sentence or word that inspires me to write.
So, whenever you are struggling to come up with ideas, try out any of these idea generators to get your head streaming with ideas to write.
5) Observe & model other creatives
Follow amazing creatives in your writing genre/niche. Observe and read the kind of writings they put out. As you read, always jot down ideas that resonate with you. Also, you can model their writings but not copy them.
The more you consume other writers' content, the more you get inspired to write yours or produce ideas on the go.
Learn more,